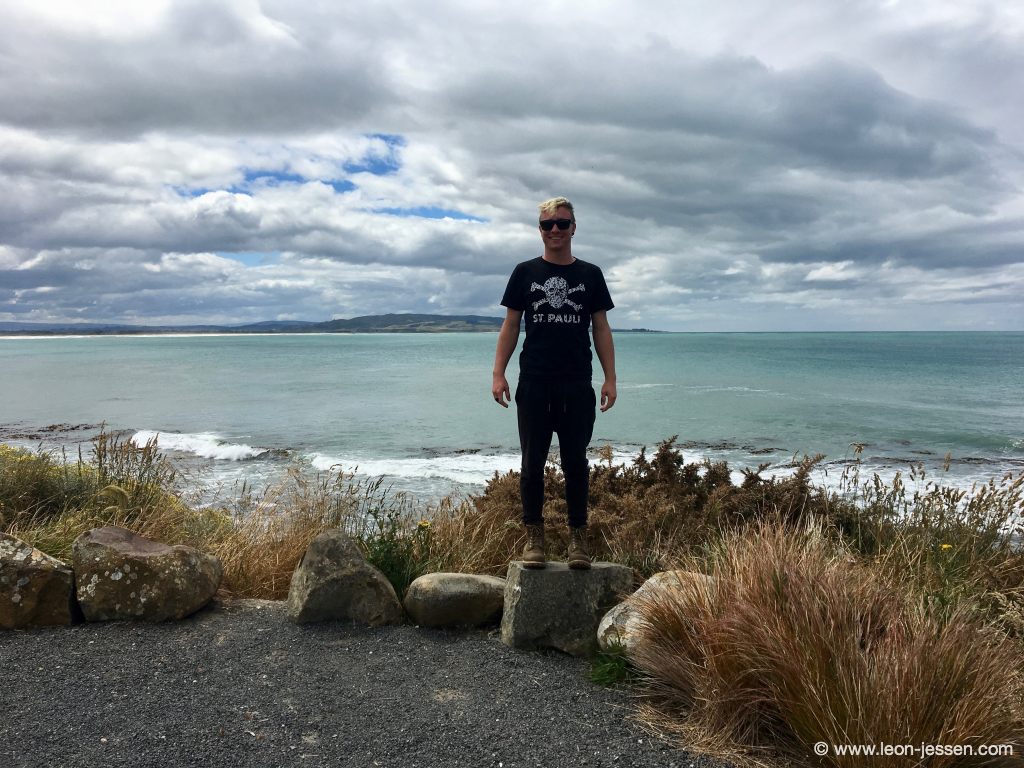 Duniden And New Years Eve
although it was the first city I made a few mistakes while driving because I was kind of confused. Also in this city there is one of the steepest road of the world and its called the Baldwin Street. It was pretty fun trying to get the car up there because its just not possible and I had to stop like 10 meter after the point where its starts getting steep. We spend the night on a camping place outside of the city just next to the sea. We spend the second day with driving around and checking out some cool places around Dunedin, seeing some Albatrosses also trying to see some penguins on places where they are often but unfortunately the where there when we came. In the evening we were driving around in the centre trying to find a nice place to go like a bar or a pub but at the moment we were in the city, the university was closed because of the summer holidays so the city was kind of empty because all the students weren't in the city. We spend the night again at the same spot next to the sea.
Gypsy Gallery, Tunnel and Invercargill
Thursday the 29th of December we left Dunedin and followed the high way number 1 which is going parallel to the sea to the South. On our way to the next big city we stoped in Katea at an old tunnel and did a walk from the one side to the other. The way to Invercargill was beautiful.
Later we stoped in Papatowai at the Lost Gypsy Gallery which practically an old bus transformed into a kind of museum. There was this man living there and he was making everything by him self. The bus was full of little stuff and some awesome kind of toys, everything was so small that you could stand like for hours in the bus and still. Find new funny things to play with. Also this man has made a hole park by him self with a lot of things to explore and it was really nice to be there.
In the early evening we arrived in the city Invercargill. In general we had a bad experience there, the people weren't really friendly to us also the city was completely empty, we felt like in a ghost city and in the evening the only thing that was going on in the city were some wanna be drifters driving fast in the centre trying to escape the police, also after arrived in the middle of the night at the camping ground outside of the city we got checked from some police officers for no reason, first I was thinking that I did something wrong on the street but everything was ok and and it was very weird and we got very confused about that.
First day in Queenstown
One day before new years evening we left Invercargill and headed strait to Queenstown where we planned to spend the new years evening. This city was just so packed that we spend almost an hour in the traffic-jam till we arrived in the city centre. We got lucky to find a parking spot in the middle of the city so we decided to park there although we had to pay for it. I got a new haircut and we spend some time walking around at the beach of the city which was completely packed with people. There are no free camping places close to the city so we had to drive like one hour to get to the next free camping place, which was like everything in and around the city was packed, we got attacked from hundreds of sandflies so we decided to get all our stuff from the back to the from without leaving the car.
New Years Eve
Waking up we left as fast as possible from the camping ground trying to get rid of the sandflies as fast as possible. In the city there is a big aqua land and we read in the internet that there was a way to take a hot shower for free there so we did that then Niko drove somewhere in the mountains while I was sleeping in the car because I was just to tired of fighting with flies the last night. Afterwards we got like the cheapest pizza you can get, went to a pub had a beer and then we meet Daisy. Daisy was a drunk British girl pretending to 24 with her fake ID although she was 17. She asked as if we saw Jonas even though we didn't knew him obviously and after lots of questions she found out that we can speak four languages, so she went completely crazy about that, taking us by the hand running around and telling everybody what she just find out. At some point she just left, giving us her number and promising she will find us after 00:00, but knew she wouldn't because she was just to drunk to do anything. The firework was amazing but we diced to not go to any club because it was just too packed and if was sure that we had to wait at every place at least for one hour till we get inside, so we went back again to the camping place for the night. Because of the amount of drunk people there was a police control for a drunk test and this police officer asked me to count till ten and afterwards blow in the machine but I did hear what he said so I blew directly and because of that she got a bit angry and aggressive so she repeat her self very loud and clear so I got nervous but I did everything correct at the second try and I was ok and she also understood that we are foreigners so she laughed and let us go, it was pretty embracing but I guys ok for my first alcohol test.
Favorite camp ground till now
Beginning the year we got some food and drove straight to the South ending up at the best free camping place we have had till now. It is placed at Lake Monowai and its about one hour from the next village, the last 8 km is a gravel road and there is no reception at all. We parked in the forest next to the others, collected sticks to make a small fire and we cooked. There was a Familie from the USA next to us, the father and the daughter where playing guitar and they were singing and after every song everybody was clapping. It was a real camping feeling because no one was using phones or any electronic device, everybody had their own fire place and the hole atmosphere was really cool.
Meeting new people
The second day of the year we decided to stay an other night at the same place without leaving it at all because it was just so cool. So after waking up Niko was looking for sticks and I lighted the fire. At some point I left with the car because we had to get something to eat so I went to a small town to get something. After two hours I was back in the forest and this kiwi girl asked as if she could join the fire place because there were no sandflies next to the fire. Her name is Emily and she is pretty funny, we also changed the fire place after a family left because there was place to sit. We spent the hole day at the fire, talking, eating, laughing, searching for wood and at some point we asked those two Canadian guys next to us if they wanna join as, so thats what they did, they came over with some wood and a lot of beers and joined us. A bit later two British guys came over and asked if they can join, so they did brining with them lots of sticks and two chairs. So we anded up sitting next the fire with two Canadian guys, Howard and Alex the two British guys, Emily and us. Jake was playing the guitar and we just enjoyed this awesome company and grilling some bacon on our sticks.
Milford Sound
We left the forest in the morning and headed to Milford Sound. This was a glacier in the past and now its and amazing lake with awesome nature. The way to get there was long but I thing the most amazing road ever because of the nature. It took us almost the hole to get there so later on we where looking on our app for a free camping place and the closest was in a small village called Lumsden. We arrived pretty late and it was very called so we tried to cook as fast as possible so we could sleep.
In the morning we had an awesome breakfast in this Cafe opposite of the camping ground. We wanted to go to Wanaka so thats what we did but we did a stop in Queenstown again to get the free hot shower. We drove all the way to Wanaka but we just went straight to the camping place and enjoyed the evening.
West Coast
On the 5th of January we drove again to Wanaka to fill up, get water and food and then we drove on the high way to the West coast. The West coast is very beautiful, lot of rain forest and beautiful lakes and glaciers, the only bad thing about it is that it has tons of sandflies. That was the first day we had to pay for our camping place but it was very good, we had to pay 15 NZD pp but we had a kitchen we could use toilets and a hot shower so we did enjoy a lot. We made some wraps and spend the cold night in the car.