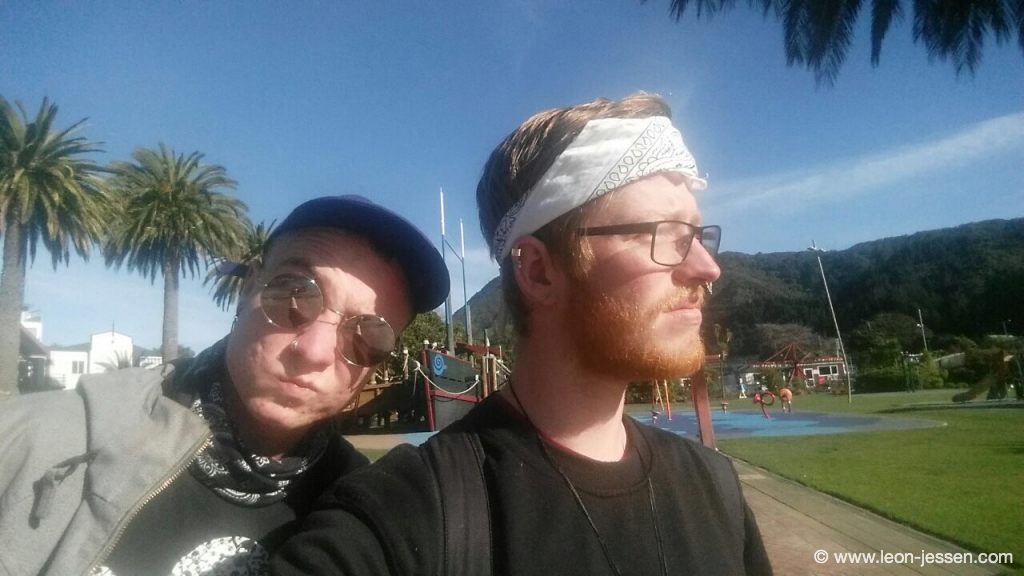 Leaving The Country Soon
Because of the rugby games at that period against the Lions, Wellington was flooded with people so all the camping grounds and hostel were full, so there was no opportunity for us to stay somewhere and because freedom camping can be fined with 200NZD, we decided to leave the city after 3 days.
On our way to the north, we saw the location where rivendell was been shot for the movie, Lord of the Rings. We basically went from free camping ground to the next one, slowly heading north through the centre of the country, passing the dessert road and cities like Taupo, Rotorua and Tauranga. We spend some time around this area because the cities are not that far away from each other so it was easy to see lots of things without driving too much.
After this actions we decided to head to Auckland and try to find some work. Arriving in Auckland we first though there are no camping grounds in the city (always talking about free camping grounds) so we decided to stay on a camp in Te Kauwhata, which is a small village 50 minutes driving from Auckland city. We stayed there for around 2 or 3 weeks as it was not as easy as we though to find a job in the city. At some point at least Niko was able to find a job and after one week I could also manage to find me a job.
At some point we finally decided to make use of Google and search for camps in the city, with positive results, we found the official website from the city council of Auckland saying and showing lots of free camps in the city. Unfortunately lots of them were not true and some are only for self contained vehicles so we just found one that fits to us. The camp we are since around one month now, is located in Panmure next to the Marina. The area doesn't seem to be really save though because it seems like there are lots of people consuming crack in that area so there are lots of drugs and strange people going around there and lots of police aswell, we see people getting arrested in the area we live like at least one or two times each day. Just before we moved from Te Kauwhata to the city we meet a kiwi girl in a shop, she was giving out wine testings so Niko was trying them while I was waiting outside and one our later he comes out with two bottles of wine and a big smile, since then we are hanging around with Alicia the hole time, we meet a lot of new local people which is really cool because we saw for the first time how the real kiwis in our age live and what they do etc.
At the moment its Monday morning 28.8.2017, its 11:10 am and I am sitting in the library in Panmure while Niko is trying somehow to manage our laundry. In three weeks Ive got my flight back to Germany and to be honest I am pretty excited of going back to Europe. At the moment though I have to get everything done here before I can leave the country so the up comping three weeks are going to be probably stressful, I hope not though.